23rd Annual Ballard Community Dollars for Scholars 
Academic Awards Night
August 17, 2017,  Ballard High School Auditorium
​Congratulations to the Academic Achievement Award winners and other Ballard scholars honored.
Our appreciation to the Academic Award namesakes, Hy-Vee, Lunchtime Solutions, Inc., Do-Biz Foods and Blumster's on Main for their support of the meal, reception and auditorium decoration. 
Special thanks to:  Peter Krum for the piano prelude and postlude,
 and to Madelynn Connell for her vocal selection "Wither Must I Wander" by Ralph Vaughan Williams, 
and to Jenn Rigby and Jenny Lichty for taking photos and Terri Doud for producing the program.
Mark Finch Agriculture Award:  Jarrett Miller, presented by Jenny Lichty 
Todd Millang Business & Technology Award:  Brock Beirman, presented by Lisa Ronca 
Sherry Kramer Family & Consumer Science Award:  Sydney Pierson, presented by Jean Longnecker 
Karen Harrison Foreign Language Award:  Dana Edleman, presented by Jill Chongo 
Todd Sommerfeld Industrial Technology Award:  Nolan Payne, presented by Nick Steenhagen 
Sheila King Language Arts Award:  Kristin Vogel, presented by Jenn Rigby 
Mike Carr Math Award:  Ben VonArb, presented by Melodi Jack 
Karina Snider Instrumental Music Award:  Cale Bangs, presented by Derrick Hawks 
Cheryle Harmon Vocal Music Award:  Madelynn Connell, presented by Peter Krum 
Rob Drew Physical Education Award:  Ben Lee, presented by Kyle Howard 
Kirk Peterson, M.D. Science Award:  Morgan Kluender & Alexa Kersey, presented by Matt Edgar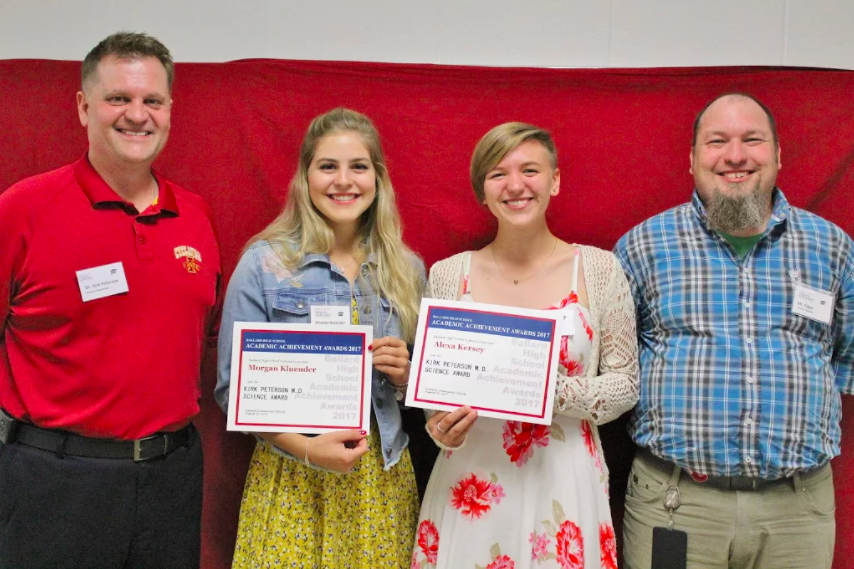 Nicole (Henry) Kennedy Service Award:  Mary Foutch, presented by Jeriann Maclaughlin 
Pat Cole Social Studies Award:  Summer McVicker, presented by Darren Herrold 
Troy McKay Speech/Drama Award:  Teresa Hannasch, presented by Lisa Ronca 
Shawn Palek Visual Arts Award:  Marlee Newell, presented by Amy Endres