Thanks to all who sponsored, helped with and participated in our recent T for 3 fundraiser!  Our 3 winners of $25 gift certificates to the Bomber Shop were Braeden Skurdal (4th gr.), Conner Drew (10th gr.) and Kayci Rigby (6th gr.).  Thanks to Jesse Hugee for his help running the contest.
Our sponsors were A&R Marketing, Subway, South Story Bank & Trust, Slater Animal Hospital, Huxley Communications, Fidelity Bank, Ballard Dental Associates, General Insurance Agency, Bud's Auto Repair & Towing, Town & Country Market, VisionBank, Huxley Vision Clinic, The Whistle Stop Academy Child Care & Preschool, Kreg Tool Company, Nite Hawk Bar & Grill, Impact 7G, Inc. Spectrum Advantage and Quick's Hardware Hank
Seniors:  scholarship applications are due March 1, 2018.    
Scholarship awards night is April 30, 2018 at 7:30 pm
23rd Annual Ballard Community Dollars for Scholars 
Academic Awards Night
August 17, 2017,  Ballard High School Auditorium
​Congratulations to the Academic Achievement Award winners and other Ballard scholars honored.
Our appreciation to the Academic Award namesakes, Hy-Vee, Lunchtime Solutions, Inc., Do-Biz Foods and Blumster's on Main for their support of the meal, reception and auditorium decoration. 
Special thanks to:  Peter Krum for the piano prelude and postlude,
 and to Madelynn Connell for her vocal selection "Wither Must I Wander" by Ralph Vaughan Williams, 
and to Jenn Rigby and Jenny Lichty for taking photos and Terri Doud for producing the program.
Mark Finch Agriculture Award:  Jarrett Miller, presented by Jenny Lichty 
Todd Millang Business & Technology Award:  Brock Beirman, presented by Lisa Ronca 
Sherry Kramer Family & Consumer Science Award:  Sydney Pierson, presented by Jean Longnecker 
Karen Harrison Foreign Language Award:  Dana Edleman, presented by Jill Chongo 
Todd Sommerfeld Industrial Technology Award:  Nolan Payne, presented by Nick Steenhagen 
Sheila King Language Arts Award:  Kristin Vogel, presented by Jenn Rigby 
Mike Carr Math Award:  Ben VonArb, presented by Melodi Jack 
Karina Snider Instrumental Music Award:  Cale Bangs, presented by Derrick Hawks 
Cheryle Harmon Vocal Music Award:  Madelynn Connell, presented by Peter Krum 
Rob Drew Physical Education Award:  Ben Lee, presented by Kyle Howard 
Kirk Peterson, M.D. Science Award:  Morgan Kluender & Alexa Kersey, presented by Matt Edgar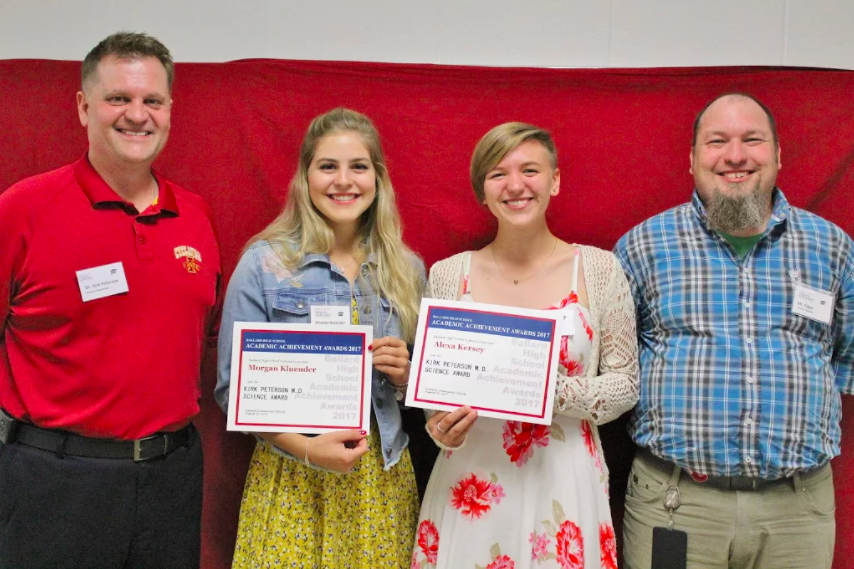 Nicole (Henry) Kennedy Service Award:  Mary Foutch, presented by Jeriann Maclaughlin 
Pat Cole Social Studies Award:  Summer McVicker, presented by Darren Herrold 
Troy McKay Speech/Drama Award:  Teresa Hannasch, presented by Lisa Ronca 
Shawn Palek Visual Arts Award:  Marlee Newell, presented by Amy Endres